Underwater filming
In this workshop Ken O'Sullivan talks about underwater filming and shares tips & tricks, supported with short scenes from his film North Atlantic – The Dark Ocean. He will also dive into the underwater filming area, how it has developed in the last 20 years and which developments are expected in this industry. Furthermore, Ken will show and talk about the equipment he uses.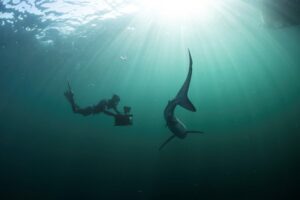 Ken O'Sullivan
Ken O'Sullivan has been an award-winning documentary filmmaker and underwater cameraman since 2005, and ocean  conservationist for most of his life. He has produced, directed and filmed 17 natural history documentaries for broadcasters RTÉ & TG4 and worked as cameraman/director for BBC, NHU, and other international broadcasters.
His 2019 book Stories from the Deep, was hugely acclaimed by critics for it's lyrical, poignant writing and visceral storytelling of swimming with enormous sharks and surviving monstrous storms in the North Atlanic. Ken studied electronic engineering in Limerick Institute of Technology, before leaving for New York City to play bass in an original rockband, which mostly involved working as a truck driver, furniture mover, in construction and sweeping streets in Connecticut.
When the music dream failed, Ken went to work in computing in London where he spent seven years on trading floors in the City Financial district, before working in Munich, Paris and The Hague as a freelance consultant. Ken's family had lived on Fenit island for two hundred and fifty years as fishermen and small farmers, here he spent the summers of his youth fishing with his father and uncles and getting a love of the sea, the seasons and the natural world in a way  that coastal folk had before the advent of commercial fishing.
Moving home to Ireland's West coast in the early millennium years, Ken followed his connection to the sea and became a self -taught  underwater cameraman, learning his craft for several years before founding Sea Fever Productions in Lahinch on Ireland's North Atlantic coast to produce creative & natural history documentary films in Ireland.
Ken has produced North Atlantic (RTÉ 2023), Ireland's Deep Atlantic (RTÉ  2018), The Silver Branch (Irish Film Board, 2017), Ireland's Ocean (RTÉ, 2014), Farraigí na hÉireann (TG4  2011) and Sea Fever (2007). In 2019 Ken donated all of his work to education, and Deep Atlantic is now a part of the Junior Cycle curriculum.